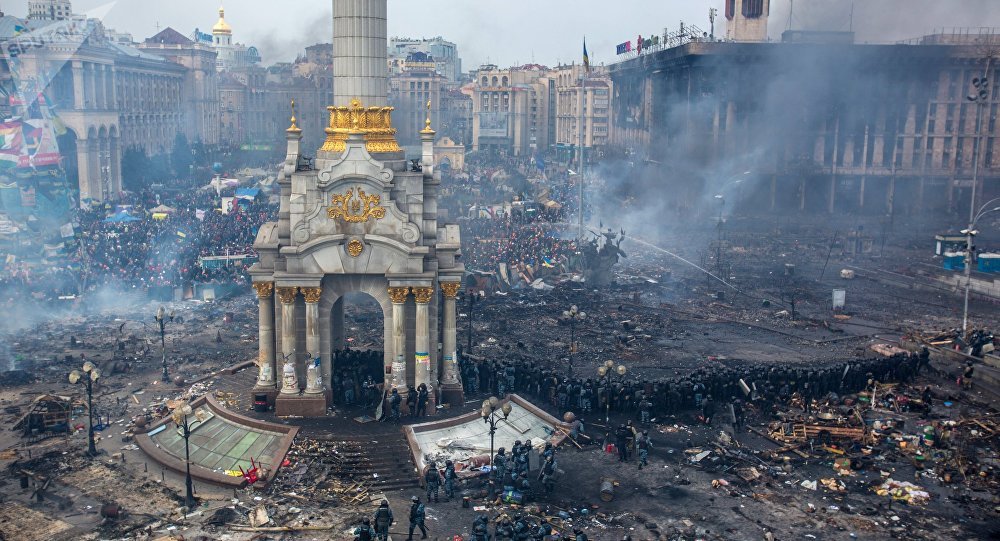 Every proper modern war is now fought with the crucial help of media warfare. The situation in Ukraine makes no exception, where, in the last few months we can see the clash between two of the world's superpowers piercing through: on one side the North–American block and its less enthusiastic european ally, and on the other, the Eurasian block. A war in wich Italy, as an EU member, doesn't have and can't have a neutral position. A war that is fought by overlooking and censoring news and information, a war that can bring to an altered understanding of a complicated political scenario. In order to highlight these well known facts, that contribute to a massive manipulation of the public opinion, we have decided to gather all the information (texts as well as videos) that the western media did not show, or tried to overlook.
So let's briefly sum up the story that the mainstream media has shown, up until today, on tv stations and on the internet:
Ucraine. Victor Yanukovich's corrupt, pro-russian government tries to get the country closer to Putin's Eurasian Union markets, and, by consequence, close the door to Ucraine's integration into the European Union. All Ucrainian people, sick and tired of the regime's choices, and wishful for western democratic reforms, have rebelled, organizing a permanent assembly in Independence Square, aka EuroMaidan. At this point, Yanukovich, no longer sustained by the people, found himself in the situation of calling the police force in order to stop the peaceful protests and even to pay protesters – the so-called titushky – to organize a counter-rebellion in his favour. A repression more and more violent, peaking with February's shootouts, that apparently resulted in hundreds of people being killed in the streets. With the country already in flames, even risking an assassination, Yanukovich fled to Russia. The political forces of EuroMaidan came to Parliament, formed a new government, and brought back the democratic measures, taking charge of a country that faces economic bankruptcy.
Without exception. There are some facts still missing from this story:
Neo-nazism
AntiMaidan
Destabilization
We will show how they have tried to justify at any cost, the political forces that are supposed to build the new, pro-european government after Yanukovich feld to Russia.
#########
1.Neo-nazism: Into the crowd and into the offices
Up until today, the list of ultra-nationalists that obtained prestigious offices in the new ukrainian government, after EuroMaidan riots.
Oleksandr Sych – Deputy Prime Minister (Svoboda)
Ihor Tenyukh – Ministry of Defence (Svoboda)
Andriy Mokhnyk – Ministry of Ecology (Svoboda)
Ihor Shvayka – Ministry of Agriculture (Svoboda)
Oleh Makhnitsky – General Prosecutor (Svoboda)
Borys Tarasyuk – Ministry for European Integration
Oleksandr Shlapak – Ministry of Finance (Svoboda "sponsor")
Andriy Parubiy – Secretary for the National Security and Defense Council (Svoboda co-founder)
Serhiy Kvit – Ministry of Education (close to the Tryzub's Stepan Bandera supporters)
Dmytro Bulatov – Sports Ministry (suspected UNA-UNSO)
Tetiana Tchornovol – Head of Anti-Corruption (former UNA-UNSO)
Video showing the training and fighting of paramilitary forces from Pravy Sektor. The demonstrations using banners of Stepan Bandera (controversial historical figure, who massacred jewish and polish people, as well as communists)and their role in the tearing down of monuments from soviet times:
www.youtube.com/watch?v=w37DnY__ofc
A video presentation of their website
www.youtube.com/watch?v=-Inu_-0dcSU
27/11/2013, Drohobych: a massive students' protest in western Ukraine during the more peaceful phase of EuroMaidan. Notice the black/red banners of banderists. The chants say:
"One language, one nation, one land, the Ukraine!"
"Hang the Moskals!"
"If you don't jump, you're a Moskal!"
www.youtube.com/watch?v=KrJC6rU9lG0
?/2/2014 Kiev: Pravy Sektor forcing themselves into a Comunal Council, harassing members of Yanukovich's Regional Party and forcing them to resign "willingly".
www.youtube.com/watch?v=9fKIq8fE1CE
?/?/2014 Kiev: Rostislav Vasilko, secretary of Lvov Ukrainian Communist Party, accused of being a sniper in the crowd of EuroMaidan. Tortured (needles under the nails, performed lung, face bones broken) beaten, forced to kiss the orthodox cross and to kneel in front of the graves of the demonstrators killed in the square. In fact he was innocent, and dragged from his home by the neo-nazis and taken in the middle of the crowd. He sent an e-mail from hospital in which he told his story and asked for help while guarded by paramilitary forces.
www.youtube.com/watch?v=L6v11T6jaaE
Thanks to some Ukrainian and Russian communist politicians he managed to escape to Moskow together with his family, that also received death threats.
www.facebook.com/photo.php?fbid=672554276134265&set=a.235769213146109.59043.212020558854308
www.repubblica.it/esteri/2014/02/22/foto/ucraina_proteste_cecchino-79352710/1/#1
http://jmalvarezblog.blogspot.it/2014/03/rostislav-vasilko-arrestado-torturado-y.html
2/2/2014 The Communist Party founding the popular militias, a defense force to counter the neo-nazis
http://histoireetsociete.wordpress.com/2014/02/01/ukraine-les-communistes-montent-des-milices-populaires-pour-lutter-contre-les-neonazis/
15/2/2014 Kiev: a small AntiMaidan group object to the presence of the neo-nazis in the streets to enforce EuroMaidan. After a short quarrel the neo-nazis attack and hit said group with bats and clubs.
www.youtube.com/watch?v=YOPn2i0effA
www.youtube.com/watch?v=SSRZ8MJiZTU
20/2/2014 Muzychko, important figure and coordinator of Pravy Sector, telling the crowd he will fight communists, jews and Russians for as long as the blood will run through his veins.
www.youtube.com/watch?v=YmOOn8UJWNE
21/2/2014 A group of EuroMaidan, probably helped by neonazis, blocks some buses that were transporting demonstrators of AntiMaidan. They're calling them "titushky" and accuse them of being paid by the government. They crowd them together and they force them to kneel and gather all the broken glass from the buses. After, they interrogate them.
www.youtube.com/watch?v=TiGLSw3fHAM
22/2/2014 Neonazis attack a Communist Party office. The furniture is thrown out of the window, the books are burned and the statues and paintings destroyed.
www.youtube.com/watch?v=Q8UPk-4ornI
26/2/2014 Natalia Vitrenko, Ukrainian Socialist Party Leader, now in opposition with the new Kiev government, asks Martin Schultz for help (EU Parliament President) saying that the neo-nazis are burning their offices and that their demonstrators are being killed while their representatives are continuously being harassed. Schulz promptly dismisses her, saying he cannot intervene in situations that imply political parties.
He is then asked the question: "Do you believe that the Neo-Nazis represent EU values? Shouldn't Neo-Nazi parties be banned in Ukraine?" He answers that the EU will try to discuss with everyone and reach peace, stability, democracy. He does not know whether Svoboda is a Neo-Nazi party, but that all facts must be put together in order to find a solution for this crisis.
www.youtube.com/watch?v=dLd8SmXz3dM
28/2/2014 Simferopol: Sinagogue Reform NerTamid is vandalized.
https://fbcdn-sphotos-d-a.akamaihd.net/hphotos-ak-frc1/t1.0-9/1965079_672751009447925_814162735_n.jpg
28/2/2014 The bill n. 4327 from feb.28/2014, providing recognition and legal status for the gangs of EuroMaidan.
www.facebook.com/ucrainaantifascista/photos/a.588029701278288.1073741828.587994241281834/593748254039766
28/2/2014 New Internal Affairs minister, Arseniy Avakov, declares illegal and punishable Muzychko's actions. He had shown up with an automatic weapon at a public assembly, saying that he would have hanged the minister to a tree, like a dog.
www.youtube.com/watch?v=TMpm2q4tfOk
1/3/2014 Kharkov: Pravy Sektor tries to occupy the building of an antifascist sport association called Oplot, that praticipated at AntiMaidan demonstrations. The people, as well as some antifascist organizations take action and free the building, vandalized by the neonazis. Some are even captured and interrogated.
www.youtube.com/watch?v=uakqj7mRFiA
1/3/2014 First BBC documentary on EuroMaidan neonazis. It is filmed only after 3 months of obvious presence of paramilitary forces in the square and only after Yanukovich feld.
www.youtube.com/watch?v=5SBo0akeDMY
3/3/2014 Dmitry Yarosh, Pravy Sektor leader, sending messages on VKontakte social network to Doku Umarov (who died 3/19/2014) a Chechen terrorist with ties to AlQuaeda, asking for support against the Russians.
https://scontent-a-mxp.xx.fbcdn.net/hphotos-frc3/t1.0-9/q71/s720x720/1618690_673025809420445_413636564_n.jpg
4(?)/3/2014 Volyn: A communist group freeing a building occupied by Neo-Nazis. Following pictures of found items.
www.facebook.com/internationalriot/posts/678524715537221
10(?)/3/2014 Sevastopol: police and Crimean self defense militia arrest three Svoboda militants who had come from Ivano-Frankvisk (western Ukraine) carrying a Makarov handgun and knife, following a shootout in the streets.
www.youtube.com/watch?v=-LpR1X5fet4
13/3/2014 Kiev: Hillel Cohen, jewish president of Hatzala Ukraina organization, is stabbed in the leg by unknown persons.
www.ynetnews.com/articles/0,7340,L-4499111,00.html
14/3/2014 Poltava: Aleksandr Mamaj, city's mayor (Eastern Urkaine, 300.000 inhabitans, and region's capital) punched and arrested by Pravy Sektor neo-nazis.
www.youtube.com/watch?v=ukTAaqSjfPc
?/3/2014 Kiev: Neo-Nazis (notice the svasticas on their arms) kick out a lady from EuroMaidan, pushing and hitting her
www.facebook.com/photo.php?v=595370150544243
?/3/2014 Kiev: Pravy Sektor beating people in the streets.
www.facebook.com/internationalriot/posts/678955442160815
16/3/2014 Dnepropetrovsk: Neonazi Pravy Sektor marching through the streets and praising Stepan Bandera. A passing couple tries to object, but they are being chased. The boy is surrounded and beaten.
www.youtube.com/watch?v=wvcPnY0QG7k
17/3/2014 Dnepropetrovsk: In Babushkinskyy police stations some neo-nazis carry on arrests, acting as law-enforcement. They have captured three pro-russian Ukrainians. They are saying into the camera that they blocked them because they had bats and other weapons. The prisoners say they are part of self-defense militias, one of them says he arrived to the demonstrations together with communists. They are being mocked. One neo-nazy shows a Saint George ribbon (orange and black, symbol of the soviet victory in WW2) that one of the prisoners is wearing. He then takes the ribbon and puts it on another prisoner's head to taunt him. The journalist asks the older man what had happened, but he answers that he doesn't know: he just fell. The other prisoners intervene saying that they were on the streets while a neonazi group approached them chanting "Glory to the Ukraine!" (it is custom to reply "Glory to the heroes!") and then they were beaten. On another prisoner's head it is written "mraz" meaning "asshole".
www.youtube.com/watch?v=ryYeDwjWCtA
18/3/2014 Three Svoboda representatives, assisted by other people, harass a First National Channel manager (the only state television in Ukraine) and force him to sign a resignation paper. The reason for all this is having broadcasted Putin's intervention from Kramlin. He is also suspected of being a "moskal" (a slur against Russians)
This is the short version of the video, taken and shared by Svoboda, in order to "make an example" and spread fear.
www.youtube.com/watch?v=ObXgVY08seI
18/3/2014 Donetsk: A boy with the face all covered in blood is humiliated by a group of neonazis because he had created a pro-Russian group on Facebook. The images have been uploaded on the same social network, where the boy is shown as Putin's agent/soldier. At the end of the video he is kicked in the head. www.youtube.com/watch?v=qzsxfSqxzqw
22/3/2014 Lvov: neo-nazi groups patrolling through the streets, harassing people. They take away a boy's red jacket and ask him for documents.
www.youtube.com/watch?v=P8kgkPsJTQs
23/3/2014 Zaporizhia: neo-nazis blocking the road. In the video you can see how three cars are being attacked because they were waving communist flags.
www.youtube.com/watch?v=ktqaGiO2cCM
24/3/2014 Muzychko killed in police operation. Roman Koval, coordinator of Pravy Sektor says: "We will take revenge on Arsen Avakov [Interior Minister] for the death of our brother. The shooting of Sashko Bilyi [Muzychko] is an assassination ordered by the minister."
http://s1.ibtimes.com/sites/www.ibtimes.com/files/styles/v2_article_large/public/2014/03/25/muzy.jpg
#########
AntiMaidan: Movement in opposition to EuroMaidan and to the new Kiev government. Rooted in eastern Ukraine, where Yanukovich and the Communist party have the majority of votes.
1/3/2014 Kharkov An EuroMaidan group, with the help of some Pravy Sektor neo-nazis tries to lock themselves in a Region building. The AntiMaidan protesters surround and brutally massacre them.
www.youtube.com/watch?v=rWvZlMudplk
1/3/2014 Sevastopol: A self-defense AntiMaidan group send a message to EuroMaidan co-nationals: They say they are worried about the abolishment of the national minorities law by the new Kiev government. They ask for their rights to be respected (as pro-russians) "We are antifascists" they are saying to the camera.
www.youtube.com/watch?v=AweIIl6raYg
1/3/2014 Zaporiozhie: AntiMaidan protest.
www.facebook.com/photo.php?fbid=672068029516223&set=a.235769213146109.59043.212020558854308
1/3/2014 Donetsk: Significant AntiMaidan protest.
www.youtube.com/watch?v=fiEVK27-5oM
1/3/2014 Other AntiMaidan protests all over the country
www.facebook.com/media/set/?set=a.672097122846647.1073742024.212020558854308
2/3/2014 Odessa: Major AntiMaidan protest
www.youtube.com/watch?v=NEIJ4pB6OSQ
3/3/2014 Donetsk: AntiMaidan protest against the new city governor , Sergei Taruta, imposed by the new Kiev government. http://www.youtube.com/watch?v=yTkY6BsrcUU
6/3/2014 Donetsk: Pacel Gubarev, an AntiMaidan leader and Russian separatist (fyi: militant for a national Russian group since his youth) self-proclaims himself as the new Donetsk Governor. Arrested by the new Kiev government, he is currently risking 10 years in prison.
www.facebook.com/photo.php?fbid=674749145914778&set=a.235769213146109.59043.212020558854308
8/3/2014 Kharkov: Borotba organizes a protest against the oligarchy supporting the new Kiev government.
www.facebook.com/media/set/?set=a.675766192479740.1073742027.212020558854308
9/3/2014 Representative Lyashko of the former Tymoshenko Block, together with his henchmen, visiting an AntiMaidan and separatist leader.
www.youtube.com/watch?v=__7Aj2VRRq4
9/3/2014 Lugansk: EuroMaidan protest is interrupted by an AntiMaidan one (lower your volume before clicking)
www.youtube.com/watch?v=ttvb-buSQGE
9/3/2014 Lugansk: AntiMaidan protesters enter a regional building chanting "Fascism will not go on" and "Referendum"
www.youtube.com/watch?v=ARhEd8m9QZw
www.youtube.com/watch?v=XUruiXimRDQ
9/3/2014 Donetsk: In this video you can clearly see how, in Eastern Ukraine, popular support is less for EuroMaidan, compared to AntiMaidan.
www.youtube.com/watch?v=UjKmxBBViyg
13/3/2014 Donetsk: Clashes between EuroMaidan and AntiMaidan. Two victims, one of which is Dmitry Chemyavsky a Svoboda neo-nazi militant.
www.youtube.com/watch?v=komSkAbV4GY
15/3/2014 Mariupol: AntiMaidan protest. Written on the banners: "Our country is the USSR" and "Referendum"
www.youtube.com/watch?v=CnEFU9aQWvQ
16/3/2014 Donbass: Protesters try to block, with their own bodies, the armored vehicles sent by the new Kiev government in the East.
www.youtube.com/watch?v=A3c2e-8ooqk
17/3/2014 Odessa: Anton Davidchenko, missing AntiMaidan leader.
www.facebook.com/photo.php?fbid=679692025420490&set=a.235769213146109.59043.212020558854308
23/3/2014 Odessa: Comparing EuroMaidan and AntiMaidan. The second one clearly has more partecipants.
www.youtube.com/watch?v=Nk3Y88s2GQo
###########
Destabilization
6/2/2014 Interception of the dialog between two United States diplomats, Victoria Nuland and Geoffrey R. Pyatt, ambassador to the Ukraina. Mainstream media has broadcasted this news censoring it. In fact, the only aspect reported was the "Fuck the E.U.", expressing United States' wish to leave out the European Union from the "conquest" of Ukraine.
In reality, the most interesting part has never been broadcasted – the two diplomats are in fact discussing which Ukrainian politicians will form the new government, and which will not. According to the script, Yatseniuk will become Prime Minister.
Pyatt: I think we're in play.The Klitscho piece is obviously the complicated one here (Vitaly Klitschko, former boxer, one of the most charismatic leaders of EuroMaidan). Especially the announce of him as deputy Prime Minister and you've seen some of my notes on the troubles in the marriage right now, so we're trying to get a read really fast on where he is on this stuff. But I think your argument to him, which you'll need to make – next phone call you wanna set up – is exactly the one you made to Yats (Arseniy Yatseniuk, an All-Ukrainian Union "Fatherland" party leader, also in EuroMaidan) and I'm glad you sort of put him on the spot on where he fits in this scenario. And I'm very glad he said what he said"
Nuland: Good… so I don't think we should go into the government, I don't think its necessary, I don't think it's a good idea.
Pyatt: Yeah… I mean… I guess… You think…in terms of him not going into the government, just let him sort of stay out and do his homework.
Nuland: I think… I think Yats is the guy who's got the economic experience, the governing experience. He is… what he needs is Klitsch and Tyahnybok on the outside, (Oleh Tyahnybok, neonazi leader from Svoboda, in EuroMaidan) he needs to be talking to them four times a week, you know. I just think Klitsch going in, he's gonna be, at that level, working for Yats, it's just not gonna work.
www.youtube.com/watch?v=qv7qy7jot30
19/2/2014 Protesters carrying firearms , images almost never broadcasted by mainstream media.
www.youtube.com/watch?v=N3-UodU_syo
3/3/2014 Various western politicians paying visits at EuroMaidan, encouraging the crowd.
www.facebook.com/photo.php?fbid=672767009446325&set=a.235769213146109.59043.212020558854308
9/3/2014 Kiev: Russian olygarch Mikhail Khodorkovsky, convicted in Russia for fraud, money laundering and embezzlement (pardoned by Putin) holdin a speech at EuroMaidan.
www.facebook.com/internationalriot/posts/3989563274343
11/3/2014 Exploration-attack drone and United States UAV MQ-5B knocked down by Russian AA. The US denies any involvement.
www.internazionale.it/news/ucraina/2014/03/14/esercito-russo-intercettato-drone-usa-su-crimea/
www.facebook.com/photo.php?fbid=676707602385599&set=a.235769213146109.59043.212020558854308
13/3/2014 Interception sabotaged by mainstream media, casting shadows over the confusion between the political forces of EuroMaidan, of the sniper shootings during the clashes, who sppusedly killed protesters as well as law enforcement personnel, thus rising the tension.
www.youtube.com/watch?v=ZEgJ0oo3OA8
###############
General Information
Information on EuroMaidan
www.youtube.com/watch?v=fWkfpGCAAuw
Interview with Mira, Andrey and Sasha, Ukranian antifascist
www.transition-europe.org/?p=1805
Borotba, Communist youth.
www.facebook.com/internationalriot/posts/3972506327930
Right-wing fundamentalism in Ukraine in the past few years. A documentary trailer.
www.youtube.com/watch?v=MEKJDle0nZ0
Crimea: Referendum data.
www.facebook.com/media/set/?set=a.679581445431548.1073742033.212020558854308
Pravy Sektor rep, saying that tey are not anti-semitic, that they are not fascists and that they are democratic. He also claimes they will get revenge from all the corrupt politicians.
www.youtube.com/watch?v=bHSnmIfi_YY
Original Voxkomm's dossier, in Italian, translated in english by Diana Arc. Thank you Diana.
www.facebook.com/502062676517074/photos/a.505053366218005.1073741828.502062676517074/667256223331051/?type=1&stream_ref=10